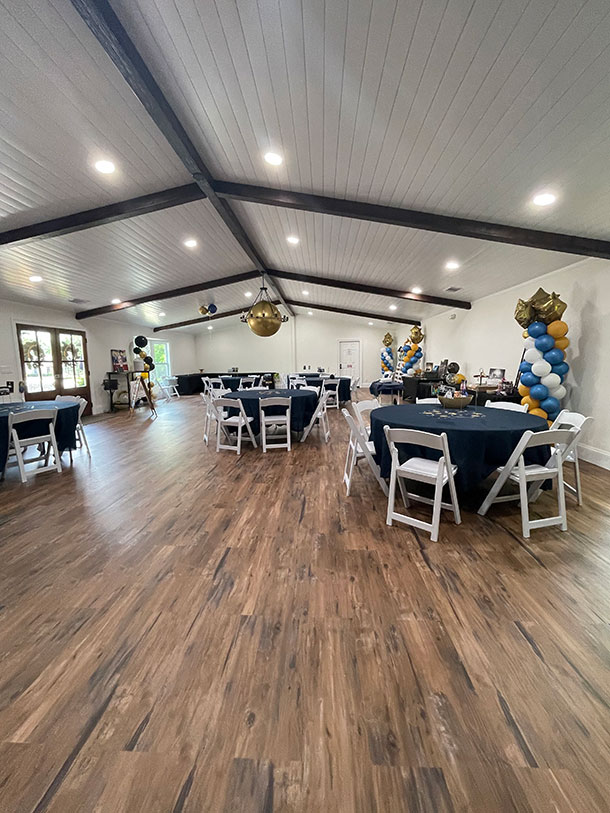 Comfortable & Casual Venue
Welcome to West Maple Events – the perfect space for your next social celebration, family gathering or corporate function. We realize that planning an event can be stressful, and our primary goal is to make the process easy and seamless for you and your guests.
West Maple Events offers a cozy and inviting atmosphere making you and your guests feel right at home from the moment you step through our doors. Our facility is designed as a blank slate, ready for you to create your event vision with minimal hassle and a great team supporting you to see that vision come to life.
Celebrations & Banquets
Graduation Celebration
Birthday Party
Corporate Events
Training & Teaching
Bridal Showers
Baby Showers
Reunions
Celebration of Life
Local Event Space
This event center is in walking distance to downtown Cumming GA and its close to Lake Lanier. The event center has a huge yard and outdoor space for flexible layout.
Catering Services
Prep kitchen with outside entrance and direct access to parking. We have a full list of restaurants, catering services for food, drinks, music, food trucks and coffee.
Private Events
Making memories for private events such as graduation, birthday, and corporate events.